GameTypes: Dungeon Missions
Dungeon are optional special missions that provide new adventure and challenges for advance players. They are much harder and longer than the normal mission but the rewards are also much more special and unique. Typically they have special monsters, bosses and special story of their own. You can only access these dungeon from specific camps. They also require special premium items to enter, which are obtainable with jil or compounding.
Dungeon List
DesertOasis -> Lost Pyramid, Maoh's Tomb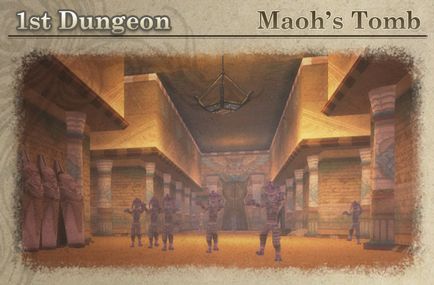 Player : 5
Require Item:
Details : The excravation team led by Dr. Liza is studying the mysterious pyramid found recently in the middle of the desert. There's a strange rumor going around about endless treasures hidden inside, guarded by fearsome creatures. None of those who got lured by the rumors and dared to enter the tomb has never returned. Some say that Maoh, the ancient emperor cat and the owner of the tomb, still live inside and punish those who dares to enter. With all these bad rumors going on, Liza's team is requesting heroes to assist her in exploring inside the pyramid.
SnowCamp -> Ice Palace, Frozen Tower
Number of Player : 5
Require Item :
Details : In the middle of the white snow land, there's a mysterious tower that reaches high to the sky. Lord of this tower is Venero, the Ice Sorcerer who appointed himself to be the 7th god. He had gathered many penguins to build a sorcery army. Even though no one knows his real purpose, it seems like the penguins worship him as if he is a god. Penne is a penguin who has escaped this place because he disagreed with Venero's plan of expanding his ice territories. Penne has come to ask for the Heroes' help of stopping that plan which can cause great damage like nobody can ever imagine.
Pirate Cove
Number of Player: 5
Require Item:
Details :Captain Red Craw and his band of pirates are terrorizing the surrounding sea area. Many villagers have been taken hostages and there's a bad rumor going on that the vicious Captain Red Craw is cooking them as dinner! Our intelligent has reported that the Pirate's main base hidden inside one of the cave. With Red Claw's cooking fascination, the land entrance can only be openned with five-stars food. With Jamon's help, it's time for our heroes to raid the Pirate's Cove!